Jeezum crow! It's almost time for Almost, Maine!
Every fall, Radnor Actors Workshop puts on a play here at Radnor High School. Last year, they performed Clue. This year, the play is the charming Almost, Maine, written by John Cariani, which tells 9 different stories about love, set during one winter evening in a town in Northern Maine.
Sophia Kaisermann, an actor in Almost, Maine, describes the show as "this really beautiful and truthful piece about love and humans loving," commenting on "how whimsical it is." Similarly, actor Anna Marie Glanzmann says she loves that "all the scenes are almost perfect," but none of them align just right, which is often the case in real life. "It combines comedy with real life in a really ingenious way through exploring relationships," says Natalie Dumin, who plays Marci. Mr. Dietzler, the director, describes the characters as "real people experiencing different layers of love and different layers of love lost… love gained, love realized, [and] love scorned." The Actors involved in the production agree that the play takes on love and relationships in a compelling and, most importantly, captivating way.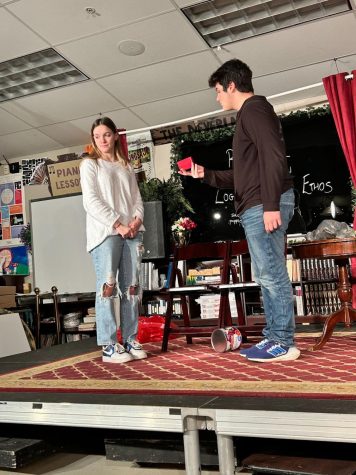 The first scene in the show focuses on the character Glory, played by Sophia, and East, played by Finn Ryan. For Sophia, the scene Her Heart tells the story of someone who has "gone through a lot very recently" but still doesn't give up. To her, it embeds an important lesson about "overcoming relationship problems and always seeking out new [experiences]" while still highlighting the slightly altered reality that is common throughout the play.
Likewise, scene six, Where it Went Wrong, starring Victor Au and Natalie Dumin, focuses heavily on relationship difficulties. Victor, who plays Phil, describes the scene as a story about a "loveless marriage" between Phil and Marci. To Natalie it represents a relationship "further down the line" than others in the show and has an aspect of "what can happen… [and] what [relationships] can deteriorate to" as individuals age. She also says it has a sense of maturity that contrasts with other scenes, mostly because it has "the oldest characters in the show."
The following scene, Story of Hope, features actors Madeleine Kane and Aidan Oliver. Madeleine,who plays Hope, describes her role as "very much on the imaginative side of things and always believ[ing] the best in people." To her, "Getting to play this hopeful, optimistic character is something that is truly unique and special."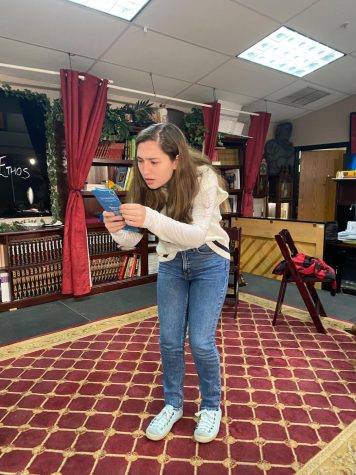 All the characters in the show have a unique aspect to them, as well as their own distinct personality. "Every scene is different and… every scene evokes different emotions, there's so many different relationships [with] them being created, destroyed, or just existing, and that's such an amazing thing,"says Abby Frey, one of the stage managers. At rehearsals, actors are encouraged to explore their characters to help bring the show to life. 
Rehearsals for Almost, Maine, a lengthy but rewarding process, started back in October. "The rehearsal process is chill," Victor says, who agrees that the rehearsals were a relaxed environment in which Mr. Dietzler, the director, helps to build up scenes and characters. Madeleine says, "He [Mr. Dietzler] really allows us to create this beautiful work that is stage-ready."
Throughout the rehearsal process, Mr. Dietzler has guided and helped create unforgettable characters to supplement the storyline of the show. He "likes talking characters and one of [his] favorite things is hearing the backstory everyone has for their characters". A big part of Radnor shows, according to Mr. Dietzler, is that "we do our homework, and we craft characters."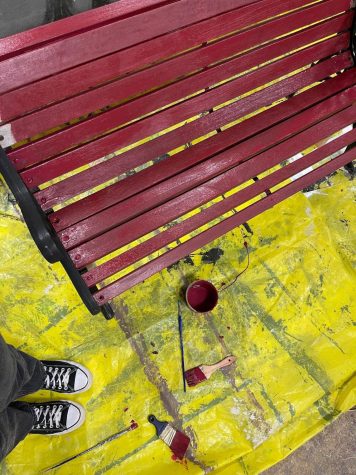 Another aspect of Almost Maine that is carried out by costuming and tech is the importance of the color red, a motif for love. Costume intern Ashley Van Trieste says, "One of the central themes is the color red so… in every scene there is at least one person wearing red, whether it's like a scarf or a whole shirt to tie the whole show together." Mr. Dietzler explains that "any character who initiates or pushes along love, [or] puts themselves out there, in a way, will have some kind of red feature." At the show, make sure to keep an eye out for the color red and the love it represents!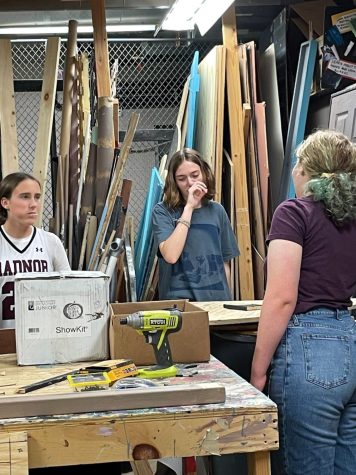 Another vital position offstage of Almost, Maine are the stage managers, Mayson Ritchie, Abby Frey, and Shelby Kauffman. "[We]stage direction notes [and] lighting notes," says Abby. Mayson summarizes what they do simply as "take blocking notes," organizing what the actors can't do to help the show run as smoothly as possible.
The cast and crew of Almost Maine hopes you can come see the play on November 17th, 18th, and 19th.  As Madeleine says, "Everyone should come see Almost, Maine because if you don't, you hate theater kids and that's discriminatory!"