Qatar World Cup 2022: Group Stage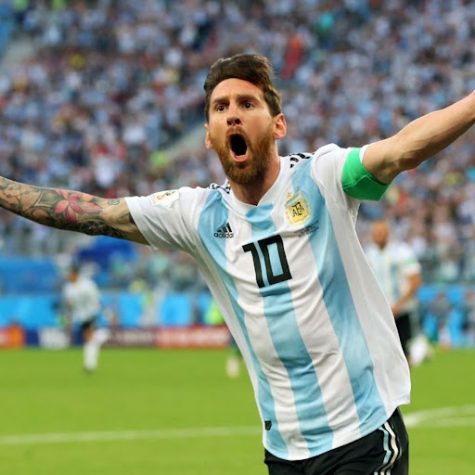 On Sunday, November 20th, the FIFA World Cup began with a bang at Al Bayt Stadium in Qatar. The kickoff match between Qatar and Ecuador was long-awaited, as Qatar was named as host of the 2022 World Cup back in 2010. It was selected ahead of bids from the United States, South Korea, Japan, and Australia. In the past, the World Cup was played in June and July, but because of Qatar's intense heat and humidity, the 2022 World Cup is being held in November and December. For the first time, the Qatari team qualified for the tournament, even if they were only admitted due to their country hosting the 2022 World Cup. After 95 minutes of game-play, Ecuador won 2-0 to Qatar. In all previous World Cup commencement games, the host nation has always been the victor, making Qatar the first to lose. From November 20th to December 2nd, thirty-two teams contested for a chance to advance to the elimination round. In the group stage, the two teams with the most points in each group proceed to the round of sixteen. To earn points, a team must either win or tie a game. Winning a game in the group stage will award the team three points, tying a game  will grant the team one point, and losing gives the nation zero points. If a tie occurs once all group matches have been played then FIFA will first look at goal difference (goals scored minus goals allowed) and goals scored. If a winner is still not determined FIFA looks to points in head-to-head matches, and goal difference/scored in head-to-head matches. Finally, if these teams are still in a stalemate then FIFA will look at fair play points to see how honorable each team was playing during their games. If neither team was allotted any yellow or red cards then FIFA will resort to drawing a winner at random. No team has been withdrawn from the World Cup by this method so far.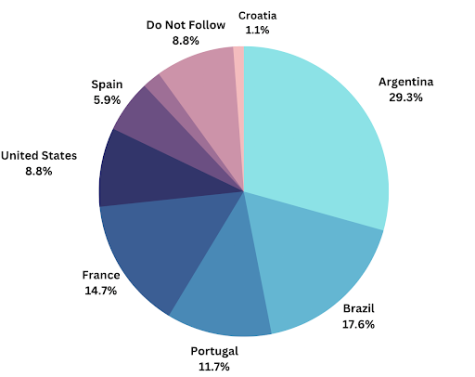 Although only 31% of Americans follow soccer, the Radnor High School community seems to have been watching the World Cup like never before. Soccer enthusiast Ben Brecher has been a fan of the sport since he was two-years-old. Despite having no affiliation with the country, Ben is a hard-core Argentina fan. He explained, "I would love to see Argentina win the World Cup, but I recognize that it is unlikely." He believes that the Argentinian squad's "defense is not strong enough when under stress," and he emphasized, "Because of this, a team like Brazil are currently my favorites to win. They have a well-rounded team with the ever-so reliable Thiago Silva and rising superstars like Vinicius Jr., Antony, and Rodrygo." Even though Ben believes that Brazil will take home The Cup, he advises to "never count out a Lionel Messi-led Argentina." When asking others around school, answers in who students and teachers believe will win varied. Argentina, Brazil, and France were the top answers also being favored in the official FIFA rankings. Mr. Krupp believes that France will win the tournament, expressing,  "I don't want France to win but I think they will win." Defying all odds the United States continues to win vital games allowing them to advance. The Radnor community shares its patriotism in the World Cup by rooting for the USA to win the entire tournament. Loyalist, JD Harlemin says, "I am hoping the land of the free to come out on top, every kick for the US is a free-kick!"
Group A:
Group A consists of the Netherlands (ranked 8th according to FIFA Men's Ranking), Ecuador(44), Senegal(18), and Qatar(50). Group A has the worst average rank with a mean of 30. The first match of the World Cup resulted in a win for Ecuador, with the hosting nation, Qatar, losing 0-2. The Netherlands won against Senegal and Qatar and tied with Ecuador, giving them a total of 7 points. Senegal rang up 6 points and also qualified for the elimination round. Unfortunately, Ecuador was eliminated, falling 2 points short of qualifying. Qatar lost all three of their games, finishing their run at the World Cup with 0 points and being officially eliminated after only 2 of their 3 games. 
Netherlands (Q*)- 7 pts. 

Senegal(Q)- 6 pts.

Ecuador(E)- 4 pts.

Qatar (E)- 0 pts.
Group B:
With group B having the highest average rank, 15, all teams had a fair chance at succeeding. England(5), Iran(20), the United States(16), and Wales(19) all initiated their run at the World Cup with ranks under 20. England transcended to the top of the group, winning two of their games, England v. Iran and England v. Wales, and tying their game against the United States. Ultimately they ended with 7 points. The United States followed in 2nd place with 5 points. Unfortunately, Iran and Wales finished in 3rd and 4th. 
England (Q)- 7 pts. 

United States(Q)- 5 pts.

Iran(E)- 3 pts.

Wales (E)- 1 pts.
Group C:
To sum it up, Group C was chaotic. The widely favored team, Argentina(3), lost to Saudi Arabia (51), breaking their 36 game streak. Besides this hiccup, Argentina comfortably topped their group with 6 points. On the final night of play for group C, all of the suspense was in the Mexico v. Saudi Arabia game. By minute 90', Mexico had scored 2 goals, giving them identical status with Poland: same points, same goal difference, same goal scored, same head-to-head. The only barrier keeping Mexico from advancing was the fact that they had three more yellow cards than Poland.  Mexico needed to score another goal in order to advance. Unfortunately, in the 95th minute, Salem Aldawsari from Saudi Arabia scored, spoiling Mexico's chances at the elimination round. Poland narrowly avoided elimination with 4 points, and Mexico and Saudi Arabia were ultimately eliminated from the 2022 World Cup. 
Argentina (Q)- 6 pts. 

Poland(Q)- 4 pts.

Mexico(E)- 4 pts.

Saudi Arabia (E)- 3 pts
Group D:
Since 2002, all European champions of the FIFA World Cup have been eliminated in the group stages of the next World Cup. Previous 2018 World Cup winners, France(4), however, did not follow this tradition, winning their group with 6 points. Australia also progressed with 6 points, only losing to France on goal differential.  Tunisia, although  eliminated, put up a good fight, beating the previous winners, France, in their final game of the 2022 World Cup. Denmark(11) lost two of their games and earned one point tying Tunisia, 0-0. 
France  (Q)- 6 pts. 

Australia (Q)- 6 pts.

Tunisia (E)- 4 pts.

Denmark (E)- 1 pts
Group E:
Germany(11) came into the World Cup with great form and team comradery. However, their gameplay crumbled throughout the tournament and ultimately resulted in their elimination. Costa Rica(31) played their hearts out but realistically were unable to advance. Spain(7) and Japan(24) both moved on to the round of 16, but neither showed outstanding game play. 
Japan (Q)- 6 pts.

Spain  (Q)-  4 pts. 

Germany (E)- 4 pts

Costa Rica (E)- 3 pts.
Group F:
Although winning their first game of the tournament, Belgium(2) performed very poorly, proving that their "golden generation" is over. Morocco(22) topped Group F despite being the 2nd lowest rank of the group. Even though they excelled within their own group, Morocco will have a difficult time playing better squads with their fast break tactics. Croatia(12) was solid as always and will also move to the elimination round. Canada, unfortunately, did not perform as well as they did during qualifying, but they will be back for the next world cup, as the United States, Mexico, and Canada are co-hosting the 2026 World Cup. 
Morocco (Q)- 7 pts.

Croatia  (Q)- 5 pts. 

Belgium (E)- 4 pts.

Canada (E)- 0 pts
Group G:
Ranked 1st in the world, Brazil showed off their talented team and strategic gameplay at this year's World Cup. With no surprise, they lead their group with 7 points, not losing any of their three games. Switzerland(15) also displayed their developed team by having zero losses as well. 
Brazil (Q)- 7 pts.

Switzerland  (Q)- 5 pts. 

Cameroon (E)- 4 pts.

Belgium (E)- 0 pts
Group H: 
South Korea showed much improvement through the 2022 World Cup group stage. They exhibited great communication on the field and continued to show their strong determination, even through difficult times. Along with that, Portugal was also extremely strong throughout the entirety of their games. Ghana, although beating South Korea, had a disappointing time at the 2022 World Cup, losing two of their three games. Uruguay tied with South Korea on points but was unable to advance due to their goals scored. South Korea had scored four times while Uruguay only scored twice. 
Portugal (Q)- 6 pts.

South Korea  (Q)- 4 pts. 

Uruguay (E)- 4 pts.

Ghana (E)- 3  pts
*Q means the team qualified for the round of sixteen, whereas E signals the team has been eliminated.