The Most Terrifying Night in Football: Damar Hamlin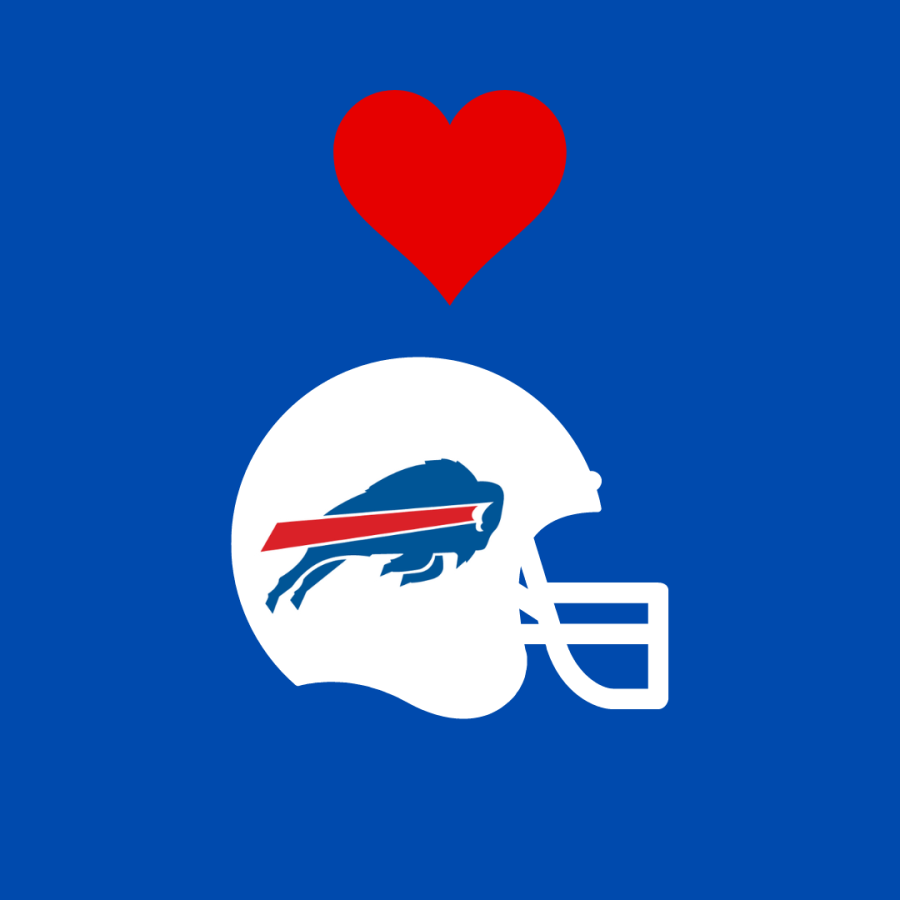 On January 2nd, Buffalo Bills safety Damar Hamlin made what seemed like an ordinary tackle on Cincinnati Bengals wide receiver Tee Higgins. But just a few seconds after getting up, Hamlin collapsed. Although the hit seemed tame, Hamlin had suffered a rare and severe form of cardiac arrest: commotio cordis, which occurs when the heart sustains a great force during a small but critical timing of the heartbeat, shutting the heart down. If CPR was not administered immediately, he would have died. Many called this the most terrifying night in football.
Damar Hamlin was on the ground for about 30 minutes before being transported to the hospital. During those few minutes, players, coaches, commentators, and fans watched in horror as the medical staff crowded around Hamlin, acting promptly to save him. Bystanders had no knowledge about the severity of Hamlin's injury or even whether he would survive. As medical staff crowded around him and an ambulance arrived, the reality of the sport of football began to sink in: these players get to play the sport they love for a living, but their dreams mean nothing without their lives. In such scenarios, team rivalries disappear because competition is never worth someone's life. On both teams, players were visibly emotional, crowding around Hamlin and kneeling in prayer as he was transported away to the University of Cincinnati Medical Center.
Although the teams were initially given a 5-minute warmup period to resume the game, it was clear that players were too shaken to continue. Conversation between referees, Cincinnati coach Zac Taylor, and Buffalo coach Sean McDermott eventually led to a decision to suspend the remainder of the game. There were initially plans to resume the match in the future, but on January 5th, the game was ultimately canceled.
Across the league, players understood that prayers to Damar Hamlin and his family were of utmost importance, even though the game had major postseason implications. Although football is a sport with great rivalries and fierce competition, players just as passionately work together to support each other. Players and fans were further unified when commentator Skip Bayless uttered a very unpopular tweet soon after the game was postponed: "No doubt the NFL is considering postponing the rest of the game – but how? This late in the season, a game of this magnitude is crucial to the regular-season outcome… which suddenly seems so irrelevant."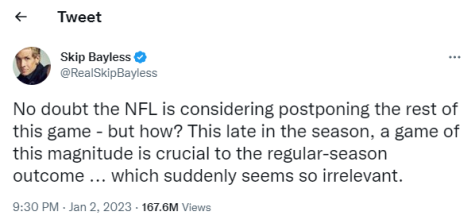 Though Bayless would later insist that "nothing is more important than that young man's health," the attention remained on the former tweet and its insensitive wording. The statement led many to believe that Bayless was more interested in the postseason scenario rather than the life of Hamlin, viewing players as unimportant entertainers that are secondary to a game. Fans and players were quick to criticize him and his tweet. Though fans seem to always be divided in sports, supporters of different teams unanimously united to support Hamlin instead of Skip's controversial and insulting take.
On January 9th, Hamlin was discharged from the Cincinnati hospital and transferred to a Buffalo hospital closer to home. On January 14th, he was finally healthy enough to return to the Buffalo Bills practice facility. It will likely be a long recovery process before we can see Hamlin return to the field, but his healthy condition alone is good news for football fans everywhere.
In their final home game during week 18 against the New England Patriots, the Buffalo Bills players rallied with Hamlin in their hearts. Kick returner Nyheim Hines scored two kick return touchdowns during the game, an incredible feat considering scoring just one kick return touchdown in a game is such an uncommon occurrence. Quarterback Josh Allen threw for 254 yards and 3 touchdowns in a 35-23 victory that secured their 2nd seed finish in the American Football Conference (AFC).
Both the Buffalo Bills (2nd seed) and Cincinnati Bengals (3rd seed) made the playoffs, which started on January 14th. The Kansas City Chiefs (1st seed), Buffalo Bills, and Cincinnati Bengals all won their week 18 games, so the playoffs aren't significantly affected. The Buffalo Bills defeated the Miami Dolphins 34-31 in their first wild card matchup and actually faced the Cincinnati Bengals on January 22nd in the divisional round, a higher stakes match than their first bout. Unfortunately for the Bills, Cincinnati pulled away with a 27-10 win; however, both sides recognize that Damar's recovery is the most important victory. The wellbeing of athletes triumphs any score.
Damar Hamlin, a Pittsburgh native, will continue to support his team next season throughout his recovery. Furthermore, the medical staff members who gave him urgent and immediate medical treatment and promptly transported him to the hospital deserve more praise. Although some fans may wish that the regular season game had been continued later in the week, it would be difficult to imagine that players would be able to play an exciting game with the safety of Hamlin in their minds. Luckily, everyone can happily move forward knowing that Damar Hamlin will be healthy.