Radnor Develops New Counseling Model to Support Students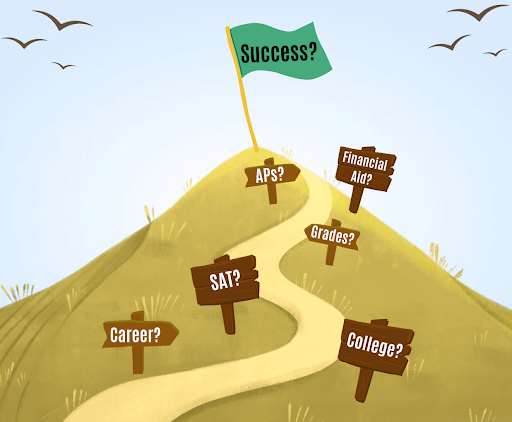 Beginning in late 2021, the Radnor High School administration undertook a major project: the College and Career Readiness Study. As the pandemic exposed the suffering mental health of students, the guidance office recognized that a change was necessary.
"The by-products of the pandemic, whether that was the separation from peers, the isolation, the fear of getting sick, the health of a parent or loved one, or the loss of income for some of our families, were all sources of stress for students," said Mrs. Kevgas. "We saw a rise in the mental health needs of our students, and our counselors were there to respond at every turn." 
But the counselors were still overwhelmed with meeting the needs of RHS students. Even after RTSD hired two clinicians from Lakeside Mental Health, the stress on the counselors was significant, and less time was being allocated for post-secondary planning. 
The College and Career Readiness Study was launched to take the temperature of the guidance office; specifically, the study aimed to help students utilize the postsecondary resources available to them. Last school year, data was collected, feedback was gathered, and recommendations were made to restructure the guidance office.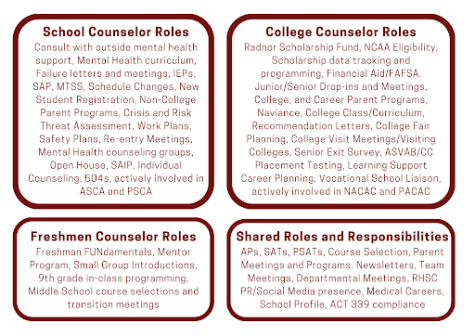 The data revealed that separate departments are necessary –  one for mental health and academic concerns, and the other for college and career preparation. For 10th-12th grade students, the change involves three regular school counselors on staff and three college/career counselors. Each sophomore, junior or senior will meet with both counselors on a regular basis. Freshman will be assigned to a "Freshman Transition Counselor whose sole responsibility is to help first year students create a plan for making the most of their high school experience," according to the Study. Mrs. Kevgas said later on that Mrs. Semar will serve as the dedicated ninth-grade counselor.
The school plans to transition to this new counseling model in the fall of 2023. The college and career counselors have both already been hired, and the third will be an internal candidate from one of Radnor High School's five existing counselors. Mr. William Yarnell, who facilitated the College and Career Readiness Study, has continued to work with the school district to make sure the new structure runs smoothly and effectively.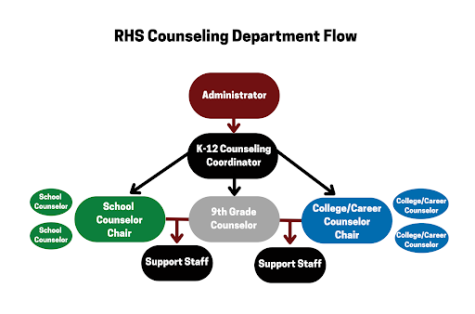 Another suggestion by the study entailed adding an elective class called College and Career Transition Prep (CCTP), taught by staff from the RHS Counseling Department. Mrs. Ottaviano, an RTSD guidance counselor, said that this 0.25-credit course will be available to juniors next year and beyond. 
According to Mrs. Ottaviano, "we really want to answer the question of 'where are you going to go after high school?'". This class will present information on SAT/ACT preparation, essay writing, various kinds of post-secondary institutions, NCAA eligibility and building a strong resume for college. By creating a course committed solely to postsecondary plans, Radnor students can access key information without having to hire outside college-counseling professionals. Mrs. Ottaviano said that "this is definitely more of a private school model."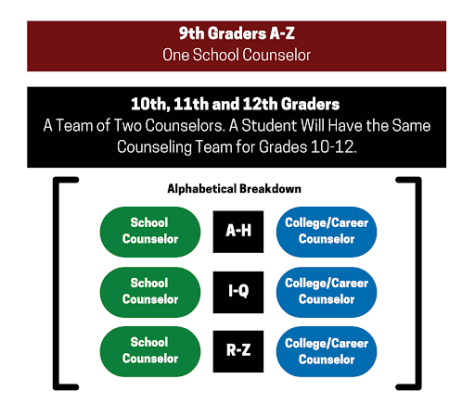 The developments to the RHS guidance department are exciting. By having a dedicated set of college/career counselors along with mental health/academic counselors, all students will be able to obtain the support they need. The College and Career Readiness Study states that "RHS has 90% of students currently seeking college placement for their post-secondary plans." That's why these changes are so crucial, especially as university admissions are growing more competitive. 
"This model is not in any other public school in the state to our knowledge. Our hope is that it will become a model for all public schools," said Mrs. Kevgas. Repeatedly, it has been stated by RTSD administrators that the restructuring plan is similar to counseling departments in elite private schools, like the Haverford School or Agnes Irwin. Mrs. Kevgas added, "These changes are important because they help to sustain the three key components of school counseling: transition, social-emotional needs, and college/career planning. All of these changes together will create a dynamic department able to address all of the needs of our students." 
The current climate, in which high school students are overwhelmed with college admissions, can become a factory of anxiety. Hopefully, Radnor's coming counseling model will combat this stress and improve future outcomes for all students.