Rihanna's Super Bowl Halftime Show: Yay or Nay?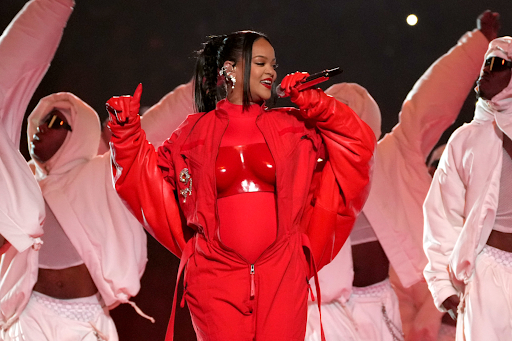 During the 2023 Super Bowl, Rihanna opened the half-time show with one of her greatest hits, "B-tch Better Have My Money." While many Radnor students were nervously anticipating the second half of the game, Rihanna's performance served as an interlude. Following Rihanna's performance, some argued that it was a weak concert, while others applauded the singer for her awe striking Super Bowl half-time show – while pregnant. 
I thought Rihanna's show was amazing, especially since she stood upon a platform suspended 15-60 feet in the air throughout most of it. Rihana's performance broke records as the first woman to perform at the super bowl while pregnant. Her achievement empowered women of all ages. Additionally, Rihanna has not performed since the 2018 Grammys, and her fans were ecstatic to see her perform a dozen songs in just 13 minutes. 
Following the Super Bowl, however, the meme account, "NFL Memes" posted a significant amount about the show.While their intention was not to mock Rihanna, many Facebook and Instagram users expressed their dissatisfaction with her performance in the comment section. One SuperBowl fan tweeted, "Rihanna half time very very meh obvious lip sync and she's not even really dancing." This fan's disappointment was echoed by many Rihanna and Super Bowl fans alike. Some felt that Rihanna's lip syncing impaired the quality of her performance "especially because of her lack of dancing." In my opinion, Rihanna's ability to perform with such high-energy was extraordinary, considering her pregnancy. 
While many expressed disappointment towards the possibility that Rihanna lip-synced during the Super Bowl, NFL policy actually encourages artists to do so. According to TV Insider, "This is because the NFL requires bands and artists to pre-record backup tracks in order to avoid potential live snafus. When preparing for one of the most watched live television events of the year, they record things in advance as an insurance policy." This policy reveals that lip-syncing is often promoted to ensure a better performance for the performer and the audience. In addition to making sure fans can hear the music, lip-syncing allows a performer to move around the stage to deliver the excitement that is anticipated from a half-time show. Even if a singer chooses to lip sync,they still have the ability to sing any part of a song live, just not all of it. In addition to fans, many Republican politicians criticized Rihanna for her performance. Such an example is former President Donald Trump, saying ""Without her "Stylist" she'd be NOTHING. Bad everything, and NO TALENT!" Many of these comments were made before Rihanna's performance, illustrating that such comments are more politically motivated,as Rihanna embraces more liberal views. In 2016, Rihanna prohibited Trump from playing any of her music at his rallies, causing a continuous tension between Rihanna, Trump and many of his supporters. 
Despite some of the critics' comments towards Rihanna, her half-time performance was iconic. Her red suit created an immensely bold appearance, and I was impressed by her bravery to stand atop platforms hanging from the top of the stadium. Rihanna's choice to perform a halftime-show while pregnant established an inspiring message for all the women watching. Even though many people mainly focused on the pregnancy announcement, fans also loved the songs she sang and have continued to listen to her throwback hits following the Super Bowl. Rihanna, indisputably, set the bar high for future half-time performers.