Thank You For All That You Do!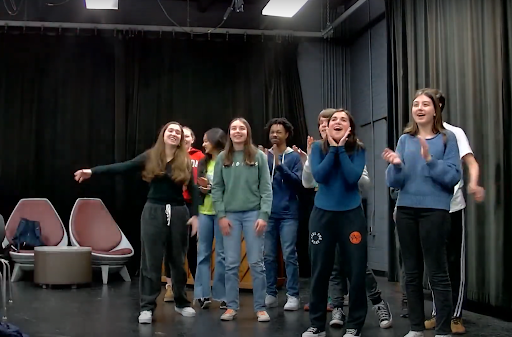 On February 21, there was a Radnor School Board meeting at Radnor High School. On the agenda; recognition of the School Board members. 
January was school board appreciation month, and at the February meeting was Radnor's recognition. This year, for school board appreciation, administrators, including Dr. Batchelor and some Radnor students performed a thank you song to the school board. The students and Dr. Batchelor took time out of their busy schedules to rehearse and make it as good as it could be. For Natalie Dumin, one of the students involved in the performance, her favorite part in planning was rehearsing with Dr. Batchelor. 
The performance was a cover of the song "Thank You For Being a Friend" by Carol King, commonly known as the theme song to The Golden Girls. However instead of "Thank you for being a friend," though, the students sang "Thank you for all that you do!" 
Susan Stern, one of the school board members, "was blown away" when Dr. Batchelor began singing the revamped cover of "Thank You For Being A Friend." However, her highest praise went to the students: "Their talent is incredible and I could not hold back the tears." At the end, a group of middle schoolers also held up thank you signs, which were made by the elementary school students, to the school board. Ms. Stern explained that in past years, there have been other appreciations too, including "giant thank you cards from students… [and] in recent years there have been very creative video montages."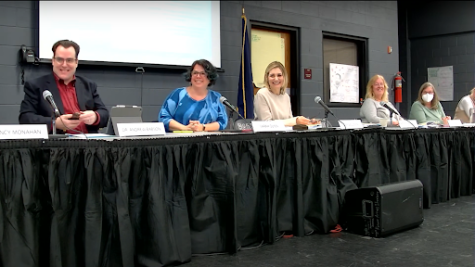 These school board appreciations are well deserved. The school board does various things, all of which affect Radnor students. They not only decide on a district budget, but "review and enact policies that govern the District," according to Ms. Stern. "While policies may not seem to directly affect the Radnor students, they work together to create the educational experience." Additionally, the school board sets "yearly district goals and initiatives" that lead to new things such as "the RHS ADA Accessibility and Wellness Project… [and] a later start time for high school students."
Not only is the school board incredibly important overall, but it is composed of volunteers who are volunteering their time to the school district! Natalie Dumin explains, "School board appreciation is important because they do so much for us as a district, yet rarely get to see us." She also compares thanking the school board to thanking other important members of the community, saying, "Of course we thank our teachers… after class, but we can't necessarily do that for the members of the school board." While they rarely get the recognition they deserve, the school board makes a difference in the lives of those in RTSD. 
So, thank you School Board!