Album Review: Did You Know That There's a Tunnel Under Ocean Blvd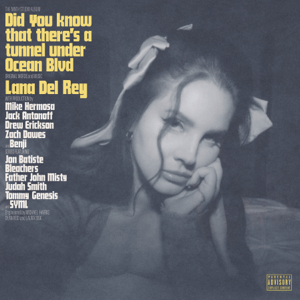 Trigger warning: topics of abuse, sexual assault, and drugs
Since Lana Del Rey's first commercial breakthrough album, Born to Die (2012), the artist has cemented her reputation as a master of lyricism, melody, and subtle symbolism. Del Rey routinely raises the bar for musical storytelling. Her presence is almost enigmatic within the industry and among her fanbase, despite her ability to share personal and reflective experiences. On March 24, 2023, the singer/songwriter released her ninth studio album, Did You Know That There's a Tunnel Under Ocean Blvd. Below, you'll find our thoughts on the album and how we chose to rate each track!
The Grants:
Finn: 9/10
Elena: 8.5/10
The opening track to the album, "The Grants" was released as the third single on March 14, 2023. The song gorgeously and lightheartedly begins with the vocals of Melodye Perry, Pattie Howard and Shikena Jones. It slowly fades into Del Rey's mellow, almost whisper-like, singing.  Deeply personal and introspective, the track is an examination of Del Rey's family and, of course, herself. She immediately sets the religious element of the album by asking "Do you think about Heaven?" This sort of imagery is present in several other tracks. As Del Rey opens her box of memories and invites us in, the specificity of the lyrics increases. Del Rey begins with words like "you" when referencing her past, like "… I wanna take mine of you with me." Toward the end of the song, she transitions into concrete memories, noting her "sister's first-born child" and her "grandmother's last smile." Much different from the somber opening tracks of some of her other albums, "The Grants" beautifully establishes the hopeful and slightly whimsical mood for this collection of songs.
Did You Know That There's a Tunnel Under Ocean Blvd:
Finn: 6.9/10
Elena: 8
The title track, "Did You Know That There's a Tunnel Under Ocean Blvd" was released back in December. Del Rey evokes a sense of loss, as if she is grasping at fading memories while the rest of the world forgets her—these feelings are starkly different from the warm and welcoming lyrics in the previous track. To express this, Del Rey begs if anyone remembers the Jergins Tunnel in Long Beach, California; she likens herself to the tunnel, viewing her reputation as a relic of bygone years, covered in dust and no longer worthy of other's love. Del Rey painfully concludes the song by repeating "Don't forget me."
Sweet:
Finn: 7/10
Elena: 7/10
In our minds, "Sweet" is the more mature, slightly darker cousin of "Radio" from Born To Die. Both tracks note the originality of Del Rey and how she wound up where she is today. "Sweet"'s lyrics are wonderfully visual, creating the image that Del Rey is running barefoot through a field of countryside grass. Returning to the inward contemplation of "The Grants," "Sweet" finds Del Rey wondering not only about her past, but her future. She asks "Do you want children? Do you wanna marry me?" The song's opposing emotions—loneliness and personal peace—strike us as particularly meaningful and relatable.
A&W:
Finn: 10/10
Elena: 10/10
Perhaps the most personal track on the album, "A&W" chronicles Del Rey's connection with the world since childhood, and how this understanding has influenced her internal perception. The song begins with a building instrumental, after which Del Rey alludes to her relationship with her mother, her body, the public and press, men, and sex. This "experience," as Del Rey puts it, didn't shape her so much as it crushed her spirits, lifted her from ash, and fused her bones back together—spawning a new "Lana Del Rey" that seemingly embraces it all. Del Rey reveals that she grew up very quickly, falling prey to the demands of older men. She reflects on how the public treats victims of sexual assault, asking whether "anybody would think [she] didn't ask for it?" Later, Del Rey expands upon the themes of "Did you know…" by calling herself "invisible" and a "ghost." At around the five minute mark, the song takes an unforeseen turn. Although upbeat, the change of pace is by no means happy. Del Rey references Jimmy, a character who appears in other songs like "Coca Cola," and how their relationship morphed from passion and love into guilt and abuse.  Between the change in rhythm and the alluring lyrics, we can't help but rate this a 10/10!
Judah Smith Interlude:
Finn: 2/10
Elena: 1/10
The first of two interludes on the album, this 4 minute and 37 second track has inspired a lot of internet controversy. The interlude is a recording of a sermon from Judah Smith, a celebrity pastor and the leader of Churchome Megachurch. Smith has made his opinions on gay rights and abortion very clear, taking to Twitter to criticize those who disagree. Smith regularly uses his platform to preach nondenominational and accepting practices, but at the same time, he publicly equates homosexuality to "sin,… murder, rape, or living with your girlfriend." Del Rey's promotion of these ideals immediately drew the ire of her audience. Others stated that the track was clearly ironic, noting her almost sarcastic comments while listening to the sermon. In our opinion, the track is largely uninteresting and we would much rather listen to some of the other,  more relatable songs.
Candy Necklace (feat. Jon Batiste):
Finn: 7/10
Elena: 7/10
Returning to the melodic, almost enchanting instrumental we expect from Del Rey, "Candy Necklace," featuring Jon Batiste, opens with a story—her specialty. Del Rey comments on "feel[ing] lucky" while driving without a destination. The artist views her love as an obsession, comparing it to a candy necklace. A little over half way through the track, the beat slows down and welcomes Batiste's rich vocals. The ensuing call and response between the two artists solidifies the idea that Del Rey has become overwhelmingly engrossed in her relationship, to the point that she repeats the same phrase until the end of the song. Far from the traditional love song, we appreciated Del Rey's unique yet relatable take!
Jon Batiste Interlude:
Finn: 4/10
Elena: 4/10
The best demonstration of Del Rey's spiritual identity (in our opinion), this interlude's evocative lyrics create a sense of both darkness and divine brilliance. There were points when we were genuinely on the edge of our seats! The song invites listeners to experience Del Rey's awakening, as she has called it. In our average listen of the album, we'll confess that we might skip the track in favor of others, but we'll never forget the moment we first heard Batiste's spoken-word lyrics. The repetition of "I feel it" is truly powerful.
Kintsugi:
Finn: 7/10
Elena: 6/10
"Kintsugi" begins with Del Rey's pure and close-up vocals, as she hauntingly reflects on the "certain point the body can't come back from" trauma. Del Rey maintains this almost lullaby tone throughout the song. She foreshadows the themes of track #12, "Let The Light In (feat. Father John Misty)," by repeating "That's how the light shines in" in reference to becoming vulnerable and breaking down her walls. This embrace of imperfection is captured by Del Rey's use of the Japanese word "Kintsugi." Ultimately, while the track was perhaps the most lyrically interesting, we would have loved for more of a change in its rhythm and beat.
Fingertips:
Finn: 6/10
Elena: 8/10
"Fingertips" is genuine and heartfelt, exploring intricate relationships, self-introspection, and grief, following the theme of the rest of Del Rey's album. Despite the wordy ten verses and the lack of a chorus, Lana Del Rey captivates her listeners with lyrics that hit so close to home. The instrumentation of the song is lush and atmospheric, with a mix of electronic and organic elements. It features rich, sweeping strings, ethereal synthesizers, and a slow, pulsing beat that creates a sense of weight and depth to the music. Lana Del Rey's voice is sultry and emotive, drawing listeners into the emotional landscape of the song. Almost like a diary entry, Del Rey begins the song by mystifying about her past. She explores topic after topic as the verses progress. From her struggle with drugs, her fear of death, and concerns for her family to her dealing with loss, Del Rey weaves music and poetry through raw emotion and thought. 
Paris, Texas (feat. SYML):
Finn: 9.5/10
Elena: 9/10
Contrasting from the stream-of-consciousness-esque and heavy "Fingertips," "Paris, Texas" boasts a simple yet pretty melody that samples SYML's minimalistic yet evocative piano melody, "I Wanted to Leave."  Lana Del Rey references American cities such as Florence, Alabama and Venice, California, which parallel the names of monumental tourist destinations, but in reality are modest, unspecial, small American towns. These towns all hold a history of European immigrants of the past trying to create a reminder of home, while still showing that they're not really home (suggesting this, Lana sings "Paris" and the American-revealing word "Texas" follows in a soft whisper). As she moves from town to town, Lana Del Rey implies that she is trying to escape the struggles she faces at home. Concluding the song and echoing the chorus—"When you know, you know / It's time, it's time to go"—is a mantra of "When you're home, you're home," suggesting that she knows that her decision to leave home was right. 
Grandfather please stand on the shoulders of my father while he's deep-sea fishing (feat. RIOPY):
Finn: 9.5/10
Elena: 8.5/10
Similar to "Paris, Texas," "Grandfather please stand on the shoulders of my father while he's deep-sea fishing" features a charming melody line by French pianist RIOPY. This song uses parallels between Lana Del Rey and her grandfather and father to explore her successes and her authenticity as a musical artist. Del Rey implies that through her grandfather and father, you can see herself. Del Rey sings that her father is an ambitious figure, always "deep-sea fishing for all the things he's wishing," while her grandfather, who has passed away, watches over her father, making sure that he does not fall over. The way Lana Del Rey soulfully vocalizes her experience with self-esteem and vulnerability by alluding to her family makes this track so appealing to us. 
Let the Light In (feat. Father John Misty):
Finn: 10/10
Elena: 8.5/10 
With casual country nuance, "Let the Light In" follows a story of two singers having an affair with each other, in which one wants to "let the light in" on their secretive relationship. "Let the Light in" features Father John Misty in the chorus, possibly symbolizing the couple depicted in the song. Although the song is not as emotionally impactful as most of the songs in Did you know that there's a tunnel under Ocean Blvd, "Let the Light In" has a lilting, lighter atmosphere with a mysterious undertone.
Margaret (feat. Bleachers):
Finn: 5/10
Elena: 6/10
Delicate and smooth, "Margaret" progresses like dialogue in a story. The words "When you know, you know" repeat—alluding to "Paris, Texas"—but in a different mood. This time, these lyrics are conveyed more brightly and resolutely in contrast to the inquisitive and airy "Paris, Texas." The song, featuring Jack Antonoff under his Bleachers stage name, is a telling of the love story between Antonoff and his fiancé Margaret Qualley while Lana Del Rey sings as a spectator. In our opinion, the message and mood that "Margaret" relayed felt bland and almost forgettable, but still was a nice casual listen. 
Fishtail:
Finn: 4/10
Elena: 3.5/10
Lana Del Rey diverges from her usual style when around one minute into "Fishtail," the dramatic beat drop is followed by auto-tuned, almost angry singing. Also, the lyrics to "Fishtail" are laced with a sense of defiance and frustration. The singer, who has been manipulated and mistreated, reframes her view of the world. She refuses to let someone take a hold of her emotionally by metaphorically "braiding her hair," since she knows that they do not actually care about her. Overall, we loved the nostalgic, emotional elements of "Fishtail," the heavy artificial production of the song spoiled it for us.
Peppers (feat. Tommy Genesis):
Finn: 6/10
Elena: 7/10
Lana Del Rey and Tommy Genesis collaborate together in "Peppers," intertwining their distinct styles, creating a fusion that evokes the feeling of two songs having been mashed up together almost randomly. Tommy Genesis' catchy chorus—"Hands on your knees, I'm Angelina Jolie"— weaves in and out of Lana Del Rey's sultry verses that are more rhythmic than her usual style. To us, "Peppers (feat. Tommy Genesis)" brought a much-needed sense of diversity to the album, but some of the lyrics felt a bit out-of-place and odd.     
Taco Truck x VB:
Finn: 5/10
Elena: 4/10
Lana Del Rey goes full circle in "Taco Truck x VB," revisiting "Venice B—" from her 2019 album Norman F—ing Rockwell. The first part of the song "Taco Truck" begins as a love song and progresses into a lash back at critics and the singer's unfazed character. However,  "Taco Truck" has been a subject of criticism from fans and listeners as Del Rey seemingly appropriates Latin culture by connecting her violent/strong persona to a Latin one. After a spoken outro by Margaret Qualley, the subject of "Margaret," the song smoothly segues into an evocation of "Venice B—" where Del Rey sings about her maturation in the context of her relationship. While we appreciated the callback to Norman F—ing Rockwell, we would have loved to see more originality, as "VB" was almost identical to her 2019 "Venice B—." Perhaps this combination of "Taco Truck" and "VB" encapsulates an idea that Lana Del Rey tries to address throughout her album—the conciliation of past and present, an endless loop of time— however, the track as a whole felt anticlimactic and lazy in comparison to the rest of the album.
"Did You Know that There's A Tunnel Under Ocean Blvd" captivates listeners with enchanting, nostalgic melodies and thought-provoking lyrics. Throughout the entire album, Del Rey's distinctive voice and songwriting shines, weaving stories of love, family, healing, and introspection. With its cinematic quality and cogent storytelling, the album is proof of Del Rey's artistic talent and capacity to produce immersive musical experiences. Our overall rating of the album was 8/10: Despite controversial elements of the album,  it is a great reflection of distinctive musicality and profound emotion, and we thought it was very much worth the listen! "Did You Know that There's A Tunnel Under Ocean Blvd" is undeniably a worthy addition to Lana Del Rey's discography and a testament to her artistic prowess.