Radnor Actors Workshop's "You Can't Take It with You" is A Spicy Must-See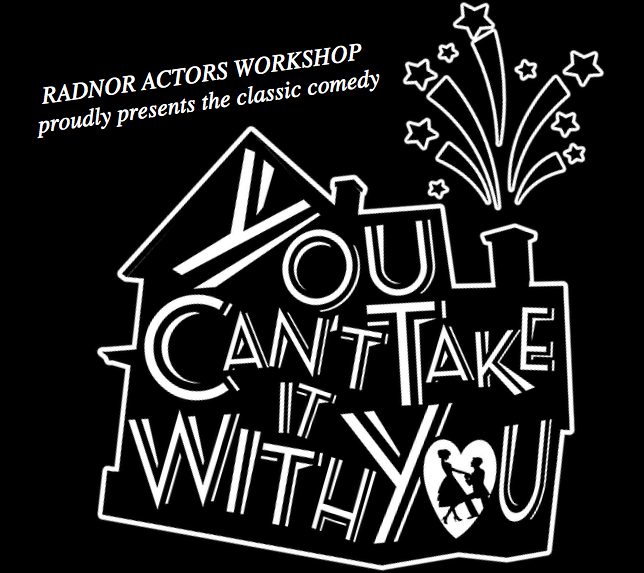 Janie McRae
November 20, 2019
As a completely unbiased member of the cast, I can confidently say that the Fall Play, You Can't Take It With You, is the greatest piece of theatre to ever exist. Jam-packed with Russians, romance, fireworks and snakes, the show makes for an exciting, and dare I say ~ spicy ~ work of art. For those who are questioning whether or not income tax is real or are thinking about becoming a communist, this play is a must-see. 
The classic 1930s comedy You Can't Take It With You brings to life the world of the Sycamore family, a group of lovable oddballs. Ballet dancing, explosions, and a screaming Russian dance instructor are not an uncommon sight in the Sycamore household, yet the unconventional group is happy marching to the beat of their own drums. At the center of this family is Alice Sycamore (played by senior Amia Korman), the "normal" one of the bunch. While working at Kirby & Co, she falls head-over-heels for her boss' son, company Vice President Tony Kirby (played by senior Dylan Roche). After a whirlwind romance the two get engaged and devise a plan to introduce their very different families. In order to make a good first impression on the Kirbys, the Sycamores must pack up their contraband and play the part of a normal family for one evening. Chaos ensues, though, when the Kirby family arrives on the wrong date and witnesses the craziness of the Sycamore household in all its glory. The dramatic evening comes to a close with an FBI raid, leaving Alice and Tony's hopes and dreams in shambles. It isn't until Alice's Grandpa (played by senior Aidan Moore) shares his philosophical thoughts that the two families can begin to see eye to eye.
The simply riveting plot of You Can't Take It With You will have you laughing, crying, and asking the tough questions: Is theatre a cult? Is it even legal to own that many snakes? Why can you not take it with you?? At first glance the show may seem entirely ridiculous, but despite the play's goofy plot and crazy characters, at heart it is about family, love, and finding happiness amidst the chaos of the world. The Sycamores may seem like a group of crazies, but they are happy being their wacky selves, something that is being increasingly difficult to come by nowadays. Mr. Dietzler, director of the play, beautifully articulated this thought, stating, "We waste so much time making money and collecting things and then wanting more things and needing more money. Well, you can't take it with you (when you pass on), and you can't really control it after you're gone, anyway… Yes, the Sycamore family is lovably goofy and odd, but\ they are happy."
As the world becomes more focused on material goods, we, like the Sycamores, must rediscover what it is that is most important: family. And there is no better group to convey this message than the cast of You Can't Take It With You. Though the focus of Radnor Actor's Workshop (RAW) is to bring to life the worlds that are created through plays, the experience is about so much more than that. It is about building friendships and creating a community. Senior Tyler Matthews, playing the role of Paul Sycamore, described his experience, stating, "I love the people more than anything. The show is really fun but honestly the people are my favorite part." The story told through You Can't Take It With You will continue to be revisited long after this production closes, but the show will never exist again as it does with this group of people.
Tickets are available online now at www.radnoractorsworkshop.org for 30% off with discount code "rhsfallplay30" and will also be sold at the door before each show. Performances will be taking place on Thursday the 21st of November, Friday the 22nd, and Saturday the 23rd, each at 7:00. Come see You Can't Take It With You and witness theatre history in the making. Be there or be square, Radnor. And bring your mother.