Interview with the New Assistant Principal
On the Tuesday morning that we met, I was very anxious about my first ever interview and did not hide this fact well. As soon as I walked into our new assistant principal's office, I set down my phone, opened Voice Memos, and abruptly let Dr. MacNamara know that I had a few questions to ask him. MacNamara paid this no mind and in turn began asking me a few questions, simple things like my grade, how my school year was going, and what I thought of the whole hybrid situation.
He began teaching as a social studies teacher at Coatesville High School for 15 years, and then went on to become an assistant principal for 8 years. He joined Radnor High School as a new assistant principal in October, though MacNamara actually began working with the district over the summer, essentially working two jobs during the first part of the school year. He would spend his day helping students at Coatesville, only to go back home and spend the evening toiling over tasks for Radnor. Now that he has officially become the assistant principal, he can start connecting with students and fully engaging with the Radnor experience. 
One of the first differences that Dr. MacNamara noticed when he began working in the building was the style of free periods. Even underclassmen that do not have the privileges of open-campus basically have free-reign of the school when deciding where to spend their work time. MacNamara's focus on this specific element of Radnor amused me, as our free periods seem so normal. "[It] caught me off guard a little bit," admitted MacNamara, "There's a lot of responsibility put on the students here," although he also observed that students rarely abuse this privilege. He now appreciates the style of our free periods at Radnor, adding that he thinks they give students the ability to "thrive."
While the flexibility of students' whereabouts was completely new to MacNamara, COVID-19 presents an even bigger contrast from his previous years of teaching and administrating.  Now, part of his job description is enforcing Radnor's safety regulations. Students often see him in the cafeteria, emphasizing that masks must be pulled back up after we are done with eating, or hear him on the loudspeaker reminding students to maintain social distancing. MacNamara expressed how  "the whole experience of working with kids is different" and noted that even our interview was unconventional, with masks and six feet making it harder to engage with each other. He  mentioned how masks complicate conversations with students, and he is sometimes left wondering "Did I really connect with them?"
The hybrid model of our school only furthers the difficulty in connecting with students. "We're in a school where half the population is in [school], [so] I can't see students on a regular basis."  Like many of the faculty, he acknowledged that it is hard to remember which cohort he will be seeing when he gets to school. He also pointed out that some students have elected to be fully virtual and that he has only been able to connect with them over Zoom meetings. Nevertheless, MacNamara is still determined to get to know all of  Radnor's students. His role as the assistant principal of student services makes it easier to interact with kids because he oversees all clubs and activities. One of the clubs that he is "really excited to be a part of" is the Black Student Union, which he will co-sponsor with Ms. LaTorre.
Over the course of the summer, there was a lot of tension in Radnor. The community saw the Radnor for Reform movement come to life and make waves through the district. When the school announced their decision to begin virtually, a petition gained traction and eventually formed into the Reopen Radnor group. MacNamara was watching this all unfold from Coatesville, but he said that he was "used to high-tension situations with parents," but also admitting that this was bigger than the administration at the high school and extended to some higher-ups. Amidst all the controversy,, he could "see the passion in the community." 
At the end of our chat, I gave MacNamara the opportunity to share anything he wanted the students to know about him. It turns out that he was an incredibly distinguished violin player in high school and all through college. At one point, he even played for Former President Bill Clinton and chatted with the then-First Lady Hillary Clinton. "Doing that was pretty cool," he expressed, relishing in the moment from his past. These days, he does not have much time to devote to violin playing, but has showcased his talent at a talent show or two back in Coatesville. Hopefully, he will have the chance to display these skills with the RHS Orchestra  someday. On the complete opposite side of the music spectrum is MacNamara's other love: hip hop. "If I am driving home, typically what's on my playlist is hip hop," he said, highlighting that his favorites were the classics like JAY-Z, Eminem, and Nas. 
When I had finished interviewing him, MacNamara continued with his questions for me. This time he asked more about the high school specifically, like my favorite memory during my time at Radnor and how the students here interact with each other. From the way he engaged with me during our time together, his comments about connecting with students were clearly sincere. As principal of student affairs, he will be a resource when students have issues with their activities and an ear for them to turn to when they want to talk about a challenge they are facing or are proud of something they have just accomplished. Dr. MacNamara has officially been at the high school for just over a month and it will be exciting to see how he further bonds with the Radnor community.
About the Writer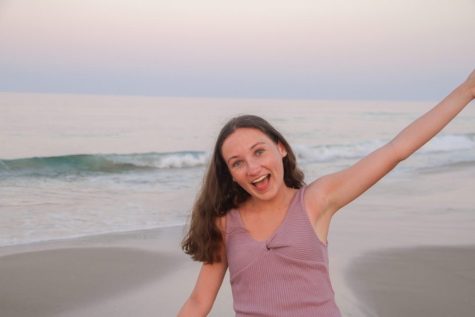 Eleanor Adams, Arts Associate Editor
Eleanor joined the Radnorite as a freshman in 2019 and is serving as an editor for the first time this year. Aside from writing for the newspaper, Eleanor...