Remembering 2021 Senior Festivities
In many ways, the Class of 2021 has had an unprecedented senior year. And yet, in other ways, the traditions and celebrations for the graduating senior class have remained the same, albeit adjusted. With mass vaccinations, coordinated by RHS and Springfield Medical, the second semester ushered in a period of enthusiasm and excitement for the senior class and larger school community. The last two months brought Senior Prom, the Senior Carnival, Senior Day and a class barbeque, the senior prank, Baccalaureate, Senior Recognition Night, and numerous graduation practices. And finally, today at 4:00 pm — the Radnor High School Class of 2021 will graduate. 
To be honest, when the location of senior prom was announced to be in the junior parking lot, expectations were low. However, thanks to the amazing and exhaustive work of the senior class parents and families, class sponsors, the Senior Celebrations Parent Committee, the administration, and the larger school community, the event was something out of a classic coming-of-age movie. Senior Prom took place on Saturday, May 22 from 7-10 pm. The junior parking lot was completely transformed, covered in a massive outdoor white tent. With a city theme, purple and blue lights lit up the inside of the tent above white tables and chairs, surrounding a large dance floor. Outside the tent, "2021" was written in lanterns on the hill, shining as the night went on. As the first major senior class event, the excitement was palpable. Everyone looked stunning as they mingled with classmates and teachers, enjoying a sit-down meal from Luigi and Giovanni Caterers or snapping pictures at the photo booth. But I think it's safe to say that the senior class spent most of the night on the dance floor, partying nonstop for upwards of three hours. With classics such as the "Electric Slide" and "Mr. Brightside," as well as newer hits such as "Savage" by Megan Thee Stallion and "Good 4 U" by Olivia Rodrigo, everyone was able to find something they liked. Radnorite coverage of pre-prom activities can be found here and Radnor Township School District photos of Senior Prom can be found here.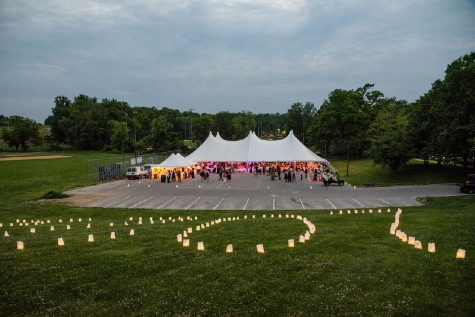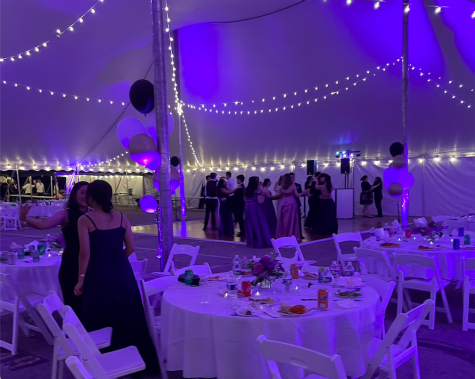 Traditionally, post-prom activities immediately follow senior prom. This year, post-prom took place two weeks after prom in the form of a massive Senior Carnival on Saturday, June 5th, from 5-9 pm. The Senior Carnival featured impressive attractions, including two rides: a Tilt-a-Whirl and a Hang Glider Ride. Other attractions included a mechanical bull, a rock wall, caricature artists, a massive slide, multiple carnival games, a high striker (also known as a strength tester), foam ax throwing, and cornhole and other beanbag games. Parent volunteers also gave out Rita's Italian Ice, hand-spun cotton candy, french fries, funnel cake, burgers, hotdogs, and other tasty treats. Parent volunteers created a display wall, decorated with colored circles featuring artistic, hand-lettered designs with each senior's name as well as walls of photographs from the senior memory collection. The weather could not have been nicer, and to beat the heat, many seniors opted to hop on a ride or grab a cold treat. Using tickets provided to each senior, amazing raffle prizes were awarded, with baskets such as "Good Eats," full of local restaurant certificates and gift cards, "College Essentials" full of dorm materials and popular games and products, "Glam" full of makeup, beauty, and skincare products. At the end of the night, additional prizes were awarded including cash, speakers, headphones, and laptops. After kind tributes to the senior class, surprise fireworks went off, honoring the Class of 2021. Radnor Township School District photos of the Senior Carnival can be found here.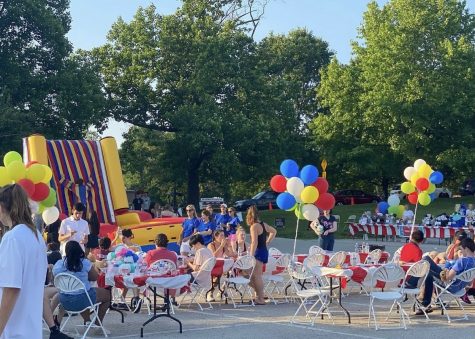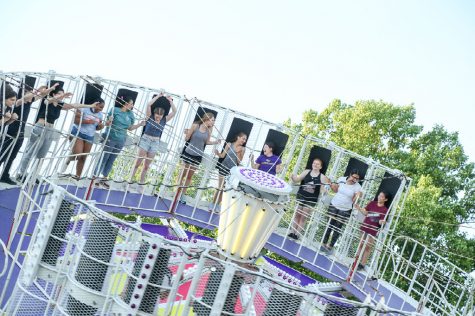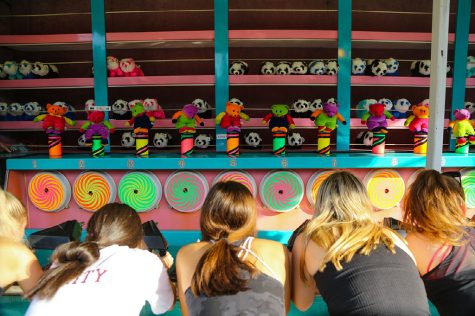 The last day of school, which took place on Friday, June 11, typically culminates in two senior events: the Senior Barbeque and the Senior Prank. The Senior Barbeque was held in the senior parking lot and despite the rain, students celebrated under pop-up tents and car trunks. Some students brought portable charcoal grills to grill burgers, hot dogs, and steaks — to varying degrees of success. Some students bought and brought pizza to share, with others grabbing similar alternatives to grilling. The event was indicative of the senior class's resilience when instead of postponing the barbeque, they decided to party under umbrellas, raincoats, and covers. With music blaring and the smell of barbeque in the air, the senior class certainly made the most of the day. 
Additionally, the senior class all wore the senior t-shirts designed by Katie Loraine. The black shirts featured a design on the front that read "Seniorworld: Radnor HS '21" in bright letters, a reference to the popular album "Astroworld." On the back, the text read "Wish you were seniors."
This year's senior prank, which also took place on the last day of school, was hidden alarm clocks in every classroom set to go off last period. The night before, Senior Class President Brendan Hung and the Senior Leadership Council hid small alarm clocks from every classroom's hanging ceiling projector, set to play "Auld Lang Syne" twice, at 2:20 pm and 2:30 pm. Despite great efforts, many classes felt little to no disruptions in classroom instruction, including in the math hallway where most students had exams on the last day of school.
Senior Baccalaureate was held virtually on Sunday, June 13 at 6:00 pm through a YouTube broadcast. The night began with a message from Class Sponsors Mr. Hunsberger and Ms. Staiber who shared class memories from over the years as well as tributes to the character and spirit of the graduating class. Baccalaureate serves as a meaningful and reflective event for the graduating class to share their talents and insights. There were many musical performances, including cello pieces, original arrangements of acapella music, singing, original video productions, and other talents. 
Senior Recognition Night took place the following night on Monday, June 14 from 7-9:30 pm inside the school's auditorium. The night was emceed by our class sponsors and highlighted specific individual accomplishments related to academics, extracurriculars, character, athletics, or post-college plans. 
For today's graduation, the senior class had three graduation practices to varying levels of success on Monday, Tuesday, and Wednesday morning. The first practice on Monday lasted four hours, held in the gymnasium, to practice the processional, sitting, standing, and name pronunciation. The second practice on Tuesday only lasted three hours, but also included a visit from Radnor alumni who work with the League of Women Voters who spoke on the importance of voting and shared voter registration information with the senior class. The third and final graduation took place at Villanova University's stadium with emphasis on walking in and out of the stadium as well as up to the stage for diplomas and speeches.
This year was challenging in so many ways. But I am forever grateful for the way the senior class and school community came together to celebrate. To the Senior Class Sponsors: Mr. Hunsberger and Ms. Staiber, thank you for your constant enthusiasm, patience, and guidance. To the Senior Class Parents: Ms. Demmy and Ms. Van Dusen, thank you for your endless creativity and dedication. To the Senior Celebrations Coordinators: thank you for your commitment to making the year so special. To the RHS teachers, staff, and administration, thank you for your leadership and support over the last four years. To all senior parents and families, thank you, you all made this year so special. And to the graduating senior class, we did it! Congratulations Class of 2021!
Tomorrow, watch for Radnorite's annual senior edition which will include graduation content, seniors' post-high school plans, and comments from the Editor.