Extreme Makeover: District Website Edition
The Radish offers satire and parody as commentary and critique on matters of public interest. No article posted on the Radish should be taken literally or viewed as representing truthful statements of the individuals or organizations which may be mentioned in the articles.
In light of recent findings, the Communications Department has taken it upon itself to redesign the website, comparing the task to that of HGTV's Extreme Makeover: Home Edition.  At the heart of the rebrand is accessibility.  Simple navigation will streamline many processes, including checking to see if we have a snowday and leisurely scrolling through the pictures on the homepage.
With novel technology on the horizon, RTSD Communications took one good look at the district website and shuddered in repugnance.  "I was on the verge of tears," says our Director of Communications, Mr. Petitti.  "The current website is an actual dumpster fire," she explained in words so ridden with pain that even I needed to step outside.  
The assignment, of course, is no easy feat.  Board members have enlisted the help of Chip and Joanna Gaines, acclaimed for their work in transforming dilapidated property on the television show Fixer Upper.  The two will play a prominent role in the aesthetic elements of the remodel.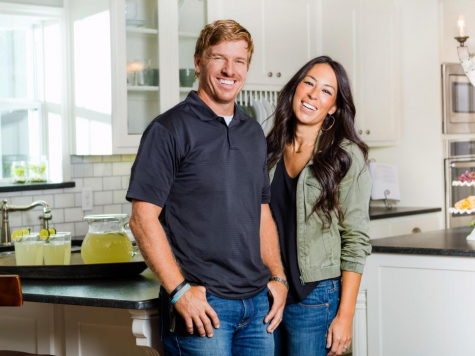 RTSD is in the market for a "spacious, three bedroom–I mean, section–website that sports an open-concept homepage and information menu."  Many speculate that the "farmhouse chic" style will make an appearance, with rustic, yet welcoming features.  With a budget of $940,000, it will be difficult to satisfy every need, but, then again, this is Chip and Jo that we're talking about.
Prior to the renovation, Chip and Jo found three website designs that match the district's vision.  Design 1 was a 2,500 square foot lot, just under the requested footage, with a charming navigation bar.  Design 2 captured a modern air, but was over budget.  Design 3, what they settled on, featured a functional floor plan with a classic quality.
It wouldn't be reality television without conflict.  Decision-making was regularly clouded by stress, leading to several arguments.  It took the district three weeks, for instance, to choose between "linen-white" and "eggshell-white" for the background color.  Ultimately, it was the $300 price difference that drove the team in the latter direction.

"Our hope is to make those who search for 'rtsd.org' feel at home," Joanna told The Radish.  "We're in the business of making dreams come true."
Stay tuned for the premier of Extreme Makeover: District Website Edition and the unveiling of the completed project in January of 2022.