The Conflict Between Israel and Palestine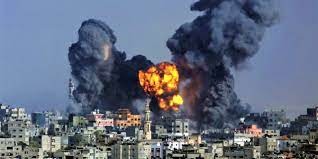 One of the many huge conflicts in the Middle East is the territorial dispute between Israel and Palestine. For the past seven decades, the whole world has witnessed war, uprisings, and protests. Sides have been chosen and opinions have been expressed. Since 1948, Palestinian rights have been a stressful problem for numerous people, especially Muslims. On 
May 6th, Muslims started to highlight the conflict between Israel and Palestine that gained a lot of international attention. Here is a timeline of the events that lead to one of the world's largest protests.
May 6th, 2021
On May 6th, the tension between West bank (Israel) and East bank (Palestine) escalated when Saeed Yusuf Muhammad Oudeh, a 16-year-old Palestinian boy, was killed in discord by the Israeli Defense Forces. Later, a woman was also killed out of suspicion of attack.
May 7th, 2021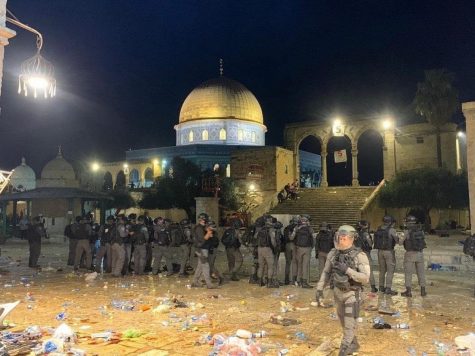 Palestinians started protesting in Jerusalem, as several Palestinian families were evicted from their homes in Sheikh Jarrah, because of a rule made in the Israeli Supreme Court. In an attempt to live in their legally owned homes, Palestinians protested day and night. Many Israeli policemen were sent when 70,000 worshippers engaged in the weekly Friday prayer at Masjid-al-Aqsa, a holy site for the Muslims in Jerusalem, and the world's third holiest mosque. Israeli police officers fired stun grenades into the holy site, which the Palestinians defended by throwing rocks.
May 8th, 2021
An increase in the conflicts occurred on the holy night of Layl-tul-Qadr when Palestinian crowds defended Masjid-al-Aqsa by throwing rocks and chanting "In spirit and blood we will redeem Al-Aqsa." The Israeli Police used stun grenades and water cannons, wounding 80 people.
May 10th, 2021
On May 10th, the Israeli police wounded many people when they evicted Palestinians from the mosque at night during Ramadan. This resulted in wounding another 300+ Palestinians when the Israeli police broke into the mosque. The Palestinians threw rocks, firecrackers, and heavy objects, whilst Israelis used stun grenades, tear gas, and rubber bullets. Another skirmish broke out on the same day, over protesting, which happened to mark the celebration of Jerusalem day, an Israeli holiday that commemorates the reunification of Jerusalem and gaining control over the Old City, throughout the old city. This conflict left 215 Palestinians injured and 153 hospitalized. Video footage also showed a blazing fire on the Haram al-Sharif caused by the burning of a tree near Masjid al Aqsa.
May 11th, 2021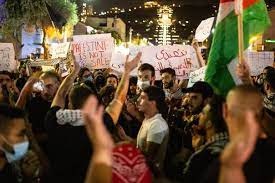 Protests spread through Israel, especially in densely populated Arab areas. This widespread protest caused the Mayor of Lod Yair Revivio to persuade the Prime Minister of Israel to use the Israeli border police to silence the havoc inside the region. The Mayor described this conflict to be similar to a civil war. For only the second time since 1966 The Prime minister of Israel, Netanyahu, declared a state of emergency over an Arab community. The Minister of Public Security also released emergency orders during the havoc. On the same day, a 13 story tower housing residential Palestinian apartments and commercial offices was disintegrated by an Israeli airstrike. Israeli defense forces said that these offices were owned by Hamas (a Palestinian Islamic fundamentalist organization formed to liberate Palestine) and that they warned the civilians before the strike, providing enough time for evacuation. Later, Hamas and Palestinian Jihad Forces fired 137 rockets at Tel Aviv in five minutes.
May 12th, 2021
On May 12th, several rockets were shot into Israel from Palestine, killing five Israelis and injuring eight others. This resulted in Israeli leaders closing schools for the rest of the week.
May 13th, 2021
Israel mobilized 9,000 reservists, members of the military reserve force, and carried out several attacks on the Gaza Strip. Several rockets were fired from Israel towards a Palestinian refugee camp in Lebanon from the Israeli-Lebanese border, landing in the Mediterranean Sea.
May 14th, 2021
Israeli defense forces and air forces claimed that they had troops on the ground and in the air attacking the Gaza Strip in Palestine. This claim was later renounced followed by an apology for misleading the media. Later that day, A Hamas drone was drowned by the Israeli force. That evening, Syria fired three rockets at Israel, two of which fell into an uninhabited area causing no damage and the third one fell into Syrian Territory. Dozens of Lebanese citizens stood in solidarity with Palestine on the Israeli-Lebanese border.
May 15th, 2021
The Israeli Defence Force (IDF) targeted the Al-Jalalah building in Gaza, which houses the news outlet Al Jazeera, Associated Press journalists, a few residential apartments, and other offices. The building was hit by four missiles before it caught on fire. An Israeli military spokesperson said that it contained Hamas's offices, a claim contradictory to the one by the Associated Press who, working in the building for 15 years, said there had been no Hamas offices in the building. 
May 17th, 2021
The Gaza Strip Ministry of Health estimated that over 212 Palestinians had died, and over 1400 were severely wounded. The only COVID-19 testing lab within the Gaza Strip was in shambles, due to an Israeli airstrike. The director of the Ministry of Health's preventative medicine department said that it would take at least one day to get the lab working again.
May 18th, 2021
Palestinians and Israeli Arabs in the West Bank and Gaza Strip held a protest against the Israeli policies and laws directed towards Palestine. The Arab Israelis had to bear consequences from the Rambam Hospital such as threats of termination and warnings. The Ministry of Education was criticized and pressured into sending a list of teachers in Israel who participated in the protest. School employees were dismissed without a hearing, according to the law of Israel. On this day, Egypt committed  500 million dollars in efforts to rebuild and restore Gaza after the Israeli missile attacks.
May 20th, 2021
Israel and Hamas mutually agreed to a ceasefire starting at 2:00 am local time on May 21st. Egyptian President, Abdel Fatah al-Sissi, commended U.S president Joe Biden's support for arbitrating the ceasefire.
May 21st, 2021
On May 21st, Egypt declared its intent to send a delegation to Palestine. Ismail Haniyeh, a senior political leader of Hamas stated that "Hamas would continue to fight Israel until Masjid al Aqsa, a 1400 years old holy site, has been served justice." Despite the cease-fire starting at 2 am on May 21st, violent conflict erupted at Masjid al Aqsa. During the Friday prayer, Muslim worshippers how did showed their support to the Palestinians in Gaza. Israelis responded by firing rubber bullets and using fire grenades. Several journalists in the mosque had previously been targeted by the Israeli forces. 
Protests Around the World:
Many countries have had protests in the wake of the violence to show their support for Palestine. People have been carrying banners that say "Free Palestine" or "stop bombing Gaza" throughout the States. Pro-Palestine protests have been held in different countries to demand their government inflict sanctions and an arms embargo on Israeli ammunition. Protests that portrayed support for Palestine were held in countries such as the United States, Spain, Italy, Iran, Somalia, Australia, France, and Germany, Pakistan, Turkey, India, Kashmir, South Korea, Indonesia, and South Africa among others.
Many Pro-Israel protests have also erupted in places like New York City. On May 20th in New York City, both Israeli and Palestinian protestors were present at the same time hence, causing violent fights, in which the police had to involve themselves. Many videos on social media showed protestors of both sides throwing punches and burning flags. The police tried to arrest people causing havoc and dispersed the crowds.
Celebrities have chosen sides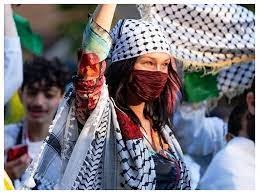 There has been a rift between celebrities voicing different opinions, causing their fans to reconsider their support of famous superstar model Bella Hadid has clearly shown her support for Palestine throughout her Instagram posts and her presence at the New York City protest. Bella Hadid has actively spoken about the issue and has faced many consequences for doing so. She lost many important contracts and was also accused of antisemitic hate.  Levitating hitmaker, Dua Lipa called out the organization, that accused her of antisemitic hate and paid for the front page in the New York Times, by saying that they used her name "shamelessly. On Saturday morning, Lipa tweeted her statement rejecting "the false and appalling allegation" and declared that she stood "in solidarity with all the oppressed people and reject all forms of racism." Many other celebrities like Zayn Malik, Dua Lipa, and Gigi Hadid have supported Palestine through their tweets and posts on Social media accounts.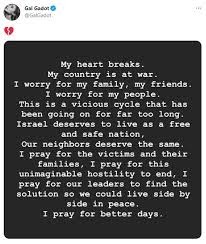 Other celebrities like Gal Gadot, Simon Cowel, and Mayim Blaik support Israel and have shown their support by donating money, openly declaring, or by posting tweets or posts on Instagram. One of the main supporters of Israel is the Wonder Woman actress, Gal Gadot. Like Hadid, she has said that she supports her country, Israel, and supports peace and harmony. She has turned off the comments of posts supporting Israel. This sparked her own online war, where people criticized her choices and her past military service to the IDF.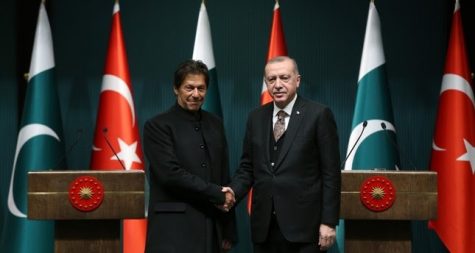 To combat the controversy, Pakistan and Turkey joined hands together to stop Israeli atrocities on Palestine. Prime Minister Imran Khan and President of Turkey Recep Tayyip Erdogan promised to work together at the United Nations and ask other countries to help stop these heinous attacks on Palestine. Prime Minister Imran Khan said that Israel's attacks on Masjid al Aqsa and the worshippers inside, as well as the people in Gaza during the month of Ramadan, violated all forms of humanity and international laws. The leaders also agreed that the foreign ministers of both countries would work together to raise awareness of this devastating issue at an international level.