GRAMMYs 2023 Red Carpet Review
It is our God-given right to talk about Taylor Swift as much as humanly possible and also to judge people, so we decided to rank the Grammys outfits! A disclaimer before we begin; we are commenting purely on celebrity outfits and not the celebrity themselves. Also, we are slightly delusional since that Taylor Swift-Harry Styles hug sparked thoughts of Style (Taylor's Version) (featuring Harry Styles), so remember that these are only our opinions. 
Before we get into ranking the looks of the red carpet- from outfits that make us want to never venture onto the internet again, to our favorites that we're seriously considering planning a heist to get a hold of- we want to start off with these two icons of the music industry.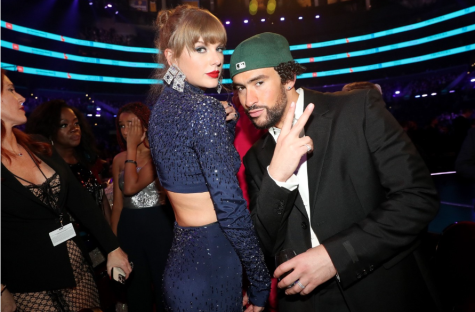 Taylor Swift in her Robert Cavalli two-piece set is the epitome of her song "Bejeweled." Plus, the dark blue color and gemstone pattern are a perfect representation of her album Midnights. We love this look, and we love this collaboration between two icons of the music industry. However, Bad Bunny needs to step it up. He didn't come to the red carpet, but we all know he can do better than a basic black suit.
Ranking (Least Favorite to Favorite):
20. Blac Chyna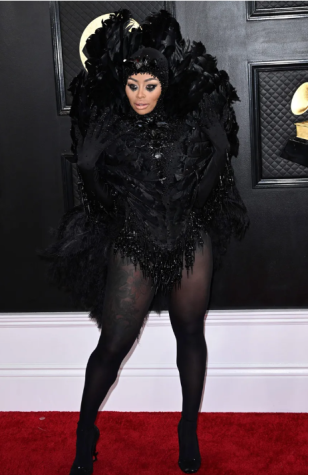 Anna: While the internet is being nice to Blac Chyna, calling her "the Black Swan" , in my opinion, Blac Chyna looks like Big Bird tried to go goth-and failed. While I appreciate someone who takes risks, this look tried to fly too close to the sun and fell (despite the feathers). 
19. DOMi and JD Beck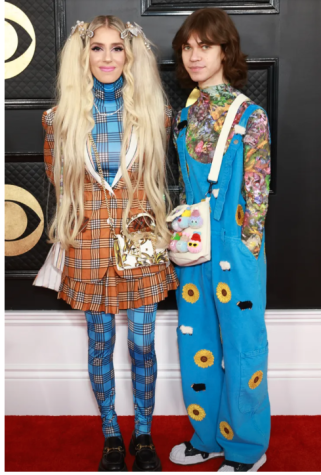 It looks like an arts and crafts table thrown up on DOMi and JD Beck. Really, this brings me back to the days of kids eating crayons and my mom helping me to pick out my outfits because otherwise, I would have dressed like this. 
18. Omar Apollo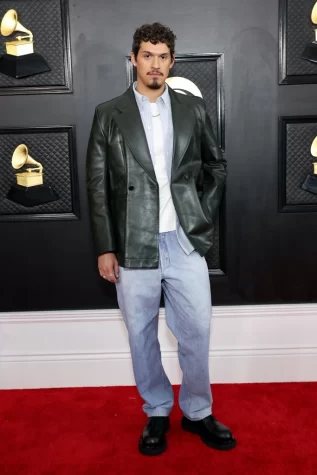 I do like Apollo's outfit. I am also fairly certain I've worn the same one to school (check Zoe Margolies' Outfits of the Weeks articles to be sure). I'm sure Apollo has great street style based on this outfit, but this look is not red-carpet worthy!
17. Kacey Musgraves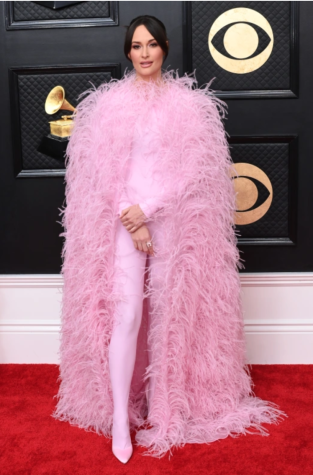 Between Blac Chyna and Kacey Musgraves, I think we could assemble the entire cast of Sesame Street from the 2023 Grammys.
16. Gayle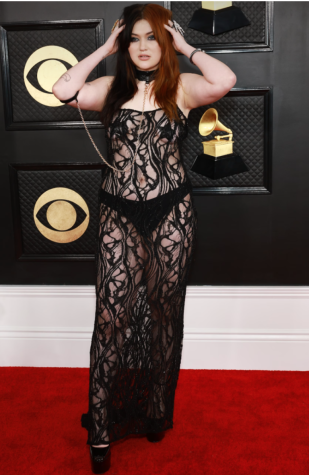 If styled differently, I think this dress could be cool. When I say different, I mean very different. In many of these other looks, we've talked about how the accessories enhance the outfit. This cannot be said for Gayle and her dog collar. Next! 
15. Brandi Carlyle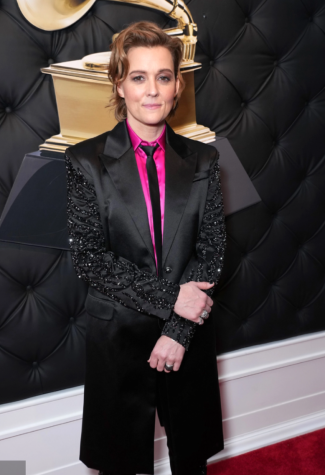 I really like Brandi Carlile's Versace black, beaded coat. The coat's length and the bejeweled sleeves elevate a boring look into something more unique and elegant. As for the rest of the outfit, I'm pretty sure I saw the skinny tie and hot pink and black color combination on an early 2000s Pinterest board- and not in a cute y2k Paris Hilton way. 
14. Sonyae Elise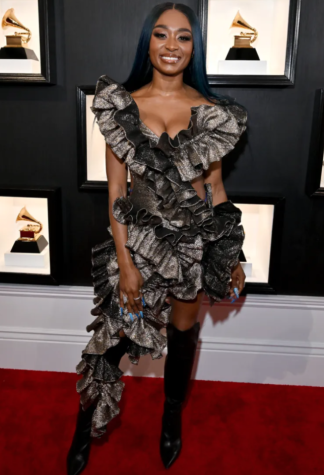 Zoe: I have a deep hatred for every aspect of Sonyae Elise's dress. Do you know where this dress should go? In the trash. The material, color, and shape to the dress genuinely makes me want to cringe. I have no comment on the boots because I have the same ones at home and so does every other girl. After seeing the trashy ruffles and style of the choice, I honestly wish she wore another basic "prom-like" dress.  
Anna: I know our fans probably think Zoe and I never disagree, but in the case of this outfit we do slightly. While I think the material and color are ghastly, I think the structure of this dress is interesting and could be beautiful with some slight modifications. I love my trusty black boots as much as the next girl, but they are not enough to save this look, and in my opinion, the shape of these boots does not compliment the dress well.
13. Pharrell Williams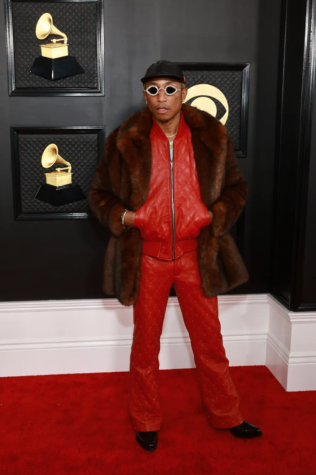 Zoe: Even though Anna disagrees, I absolutely adore Pharell in his Ernest W. Baker; the red tracksuit looked stylish with the fur coat, and the addition of the hat and necklaces matched well. Don't even get me started on the best part of the outfit: the Tiffany & Co. sunglasses.
Anna: This is our vote for Radnor Boys Basketball's 2024 tracksuits.
12. Megan Fox and Machine Gun Kelly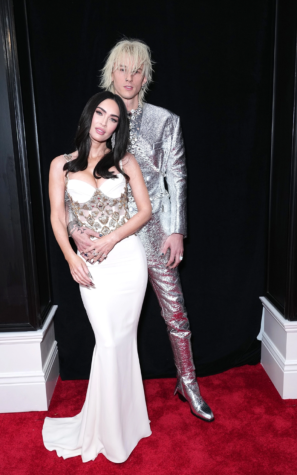 Zoe: I whole-heartedly believe that through this outfit, Machine Gun Kelly was trying to tell us he wants to be an intergalactic superhero. I have read up on his Dolce & Gabbana outfit and was truly trying to like the outfit. However, Kelly looks like he was wrapped in tinfoil and adorned with shiny, stick-on sequins and a fancy Stephen Webster necklace. On the other hand, I loved Megan Fox in her magnificent gown by Zuhair Murad with jewelry by Lorainne Schwartz. Her stylist said that the look reminded her of Baz Luhrmann's Romeo and Juliet, and I totally agree. The beautiful beads match perfectly and make the simple, white dress more extravagant. The dress immediately reminded us of the 2018 Met Gala theme: Heavenly Bodies. The couple matched perfectly for their possible last picture together. Sources say that the couple has split! And after seeing Kelly in this outfit, I would break it off too.
11. Kim Petras and Sam Smith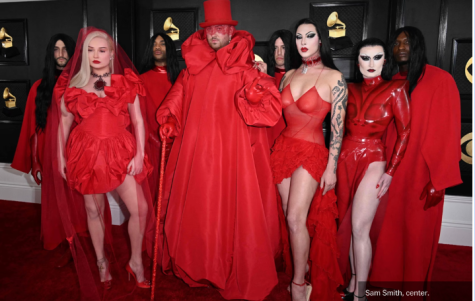 Over the past two minutes, the outfits of Sam Smith, Kim Petras, and stars from Rupaul's Drag Race have definitely grown on me, but clearly they haven't grown enough. I enjoy the shade of red and the accessories that make these outfits gorgeous. I mean the veil! The necklaces! The bedazzled cane! Unfortunately, these accessories are overshadowed by Kim Petras' 80esque prom dress and Sam Smith's puffy, terribly-shaped cape.
10. Harry Styles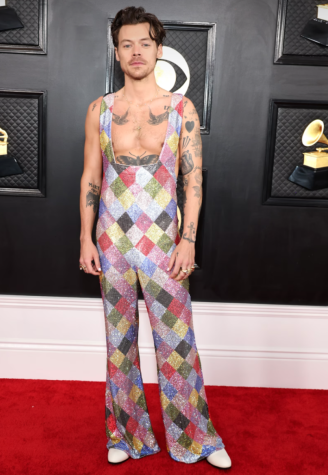 Zoe:  When it comes to Harry Styles, I get very picky. I did not like most of the Love on Tour outfits,  and his Gucci jumpsuit seems to add on to the list,  with it being more of an outfit he wears on the stage. I'm sorry, I'm just disappointed. 
Anna: While this look does remind me of a clown suit or a quilt made by my grandmother, I do like the flare cut of the pants and the boldness of the colors. It does not make my list of top Harry outfits and I miss the suits from Styles' Live on Tour era, but I would be happy with this look on the red carpet or the stage.
9. Jack Harlow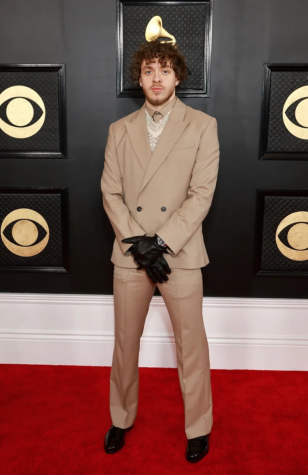 Zoe: I actually was really digging the Ernest W. Baker outfit that Jack Harlow was wearing. However, after seeing a TikTok saying he looks like a "Who-Dunnit?" character, I honestly just cannot take him or the outfit seriously. Sorry Jack!
8. Adele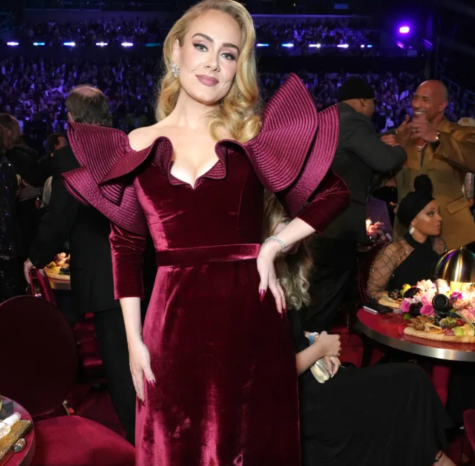 Anna: As far as this year's outfits go, Adele's Louis Vuitton dress is not at the bottom of the list. It's not as much of a standout, but the dress is pretty, and I enjoy the dramatic ruffles and neckline. However, the combination of the color, which I do love, and the material does feel like a calling to Christmas Church Services.
7. Lizzo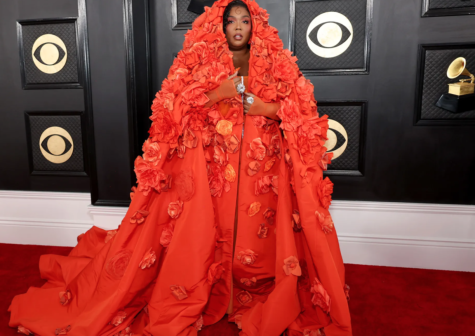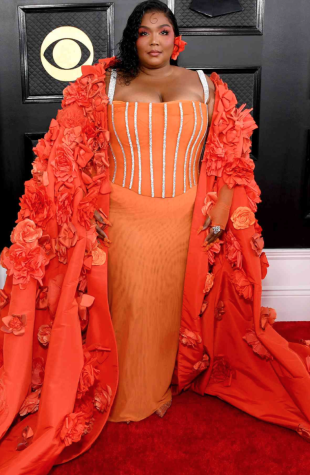 Zoe: I'm honestly not loving Lizzo in her Dolce Gabbana cape as much as I want to. I understand the intention of the design; however, she looks like her head is like popping out of an orange, glamorous tent that is covered in leaves, after her camping trip. However, her face and makeup look beautiful. 
Anna: Once the cape is unzipped and the "tent" is discarded, I like Lizzo's outfit. The cape and the accent flower in Lizzo's hair looks stunning and the hair and makeup tie this look together. I also enjoy the juxtaposition of the different textures in this outfit. I can't be too mean as my mother is Lizzo's #1 fan and my mom is likely stalking this article (Hi Mom), but I do think the straps of the dress look cheap. Lizzo was able to pull off a bright, neon look without channeling a middle school highlighter boy, which is much harder than it sounds.
6. Steve Lacy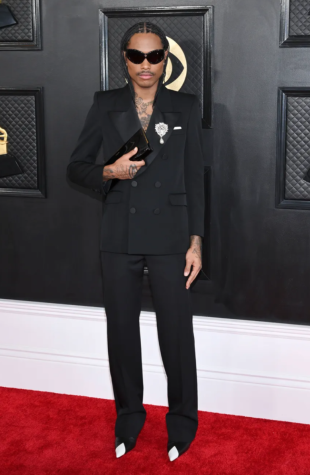 Zoe: Another amazing outfit is pulled off by 3-time nominated singer Steve Lacy in his Saint Laurent suit. The Rolling Stone's pick for the most-stylish musician of 2023 pulled off his blacked-out suit with the help of the hints of accessories. I really adore his pointed boots with the white tips, his detailed pin, his beautiful black clutch, and again, cool, stylish glasses that I want to steal. 
5. Muni Long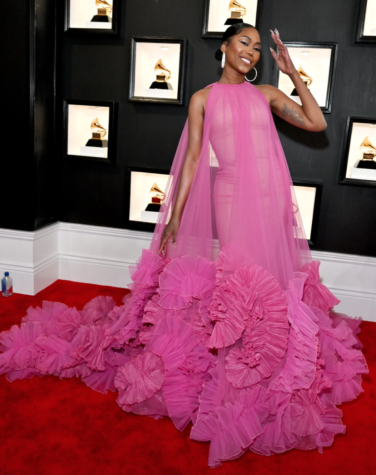 Zoe: Muni Long looks like an angel in a cloud covered in pink. I absolutely adore the dramatic and elegant flow of the dress and the ends with the ruffles are spectacular. The dress is correctly balanced, and I'm in actual awe of every aspect of the Grammy Winners dress. So well-done!
4. Anderson .Paak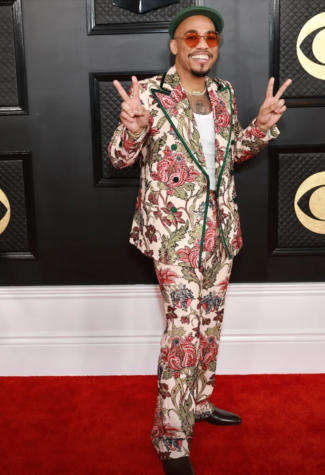 Zoe: In the wise words of my favorite person, Siena Lasky, "Anderson .Paak looks like a curtain that my mom would have in her room in the best way." You will never catch .Paak on the carpet in a basic black suit. The floral pattern is chic, while also being perfect for a Grammy's outfit. I love the detailing of the green edges of the suit that match with the hat, along with the fun and vibrant orange sunglasses.  
3. Miguel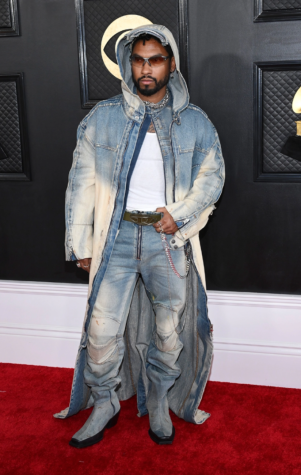 Anna: Now this is denim elevated for the red carpet. Miguel's Diesel look is reminiscent of Britney Spears and Justin Timberlake's all-denim ensemble at the 2001 American Music Awards, but with a modern spin and we love it!
2. Doja Cat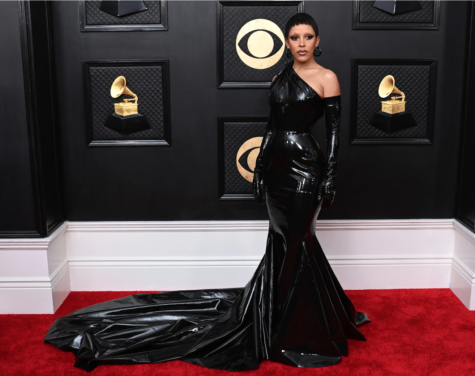 Anna and Zoe: Doja Cat's black latex Versace dress with matching gloves and Panconesi earrings reminded us of a crossover between Cat Woman and Morticia Addams. We love Doja Cat's choice of earrings and makeup as well as her bold pixie cut. Doja looks elegant, dramatic, and rebellious all at once. We are still fangirling over this look.
1. Cardi B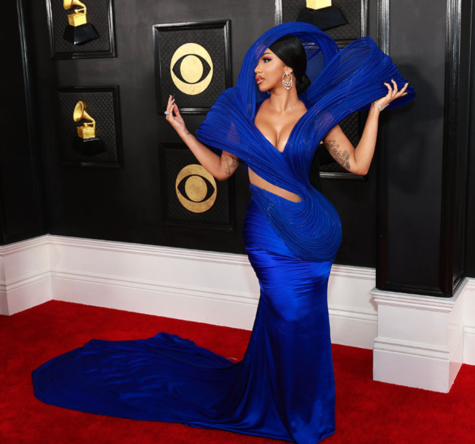 Zoe: At the top is Cardi B in Gaurav Gupta. I did in fact audibly gasp when I saw Cardi in her beautiful blue dress. The structure of the hood that connects to the ends of the dress reminds me of a blue Betta Fish, in the best possible way. Altogether, Cardi looks elegant and stylish, and even though the dress is already bright and bold, the elaborate earrings don't take away from the full look and go with the dress perfectly.