A Conversation with RHS Harpist Grace Xu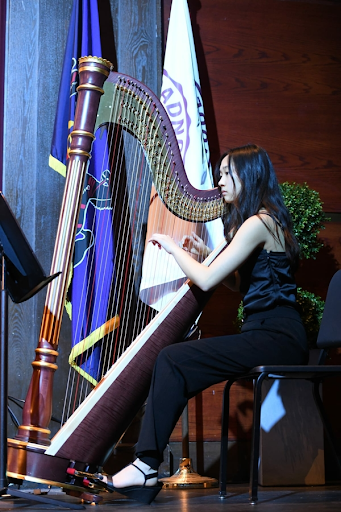 In 2019, when I first started playing in a full orchestra, one of my most memorable experiences was seeing a harpist play. To me, the harp is an almost otherworldly instrument with its intricate design and delicate strings: something that you might see only in movies or in elegant paintings adorning an art museum. As the harpist played, I, along with many of my peers, was entranced by the warm, ethereal glissandos produced by the instrument, our heads craning to glimpse the musician's dextrous fingers. 
Along with its enchanting sound, what's so captivating to people about the harp is its rarity and difficulty to play. Despite the harp's relative rarity, Radnor proudly has their very own talented harpist: junior Grace Xu. This year, Grace has successfully played with the PMEA District 12 Orchestra and Region 6 Orchestra. In light of her successes this year, I was able to talk to her about the harp and her experiences playing it.
Elena: Tell us about the instrument you play.
Grace: I play the Chicago 40 by Lyon & Healy, which is a pedal harp with 40 strings. 
E: What inspired you to learn your instrument?
G: I became interested in the harp in middle school. I don't think there was anything specific that inspired me to start, but I always liked the sound of it in the songs/media I grew up on, which made me interested in learning. 
 E: When did you first start playing?
G: I started when I was 14 in 2020 on a lever harp – the transition was very smooth since I had some experience with piano, which has essentially the same format as a harp. 
E: What do you like and what don't you like about the harp?
G: My favorite part about playing the harp is definitely the amount of effects. There are over 40 [effects], which involve different parts of your hand, different parts of the harp, and sometimes even different tools. There are so many different ones to try, especially in contemporary pieces, so there's almost always new things to explore with each piece.
One not so great part about being a harpist is maneuvering in and out of places – the process can be time-consuming since I have to get the harp into its case, lock it onto the cart, and get it in and out of cars. Taking it through stairs or bumps can be challenging since the shock that it absorbs can cause cracks or scratches on the harp. Thankfully I usually have someone else helping, which makes the process easier.
E: What's so different about harp from piano (which you also play)?
G: The harp is basically a vertical piano – the order of the notes are the same, but what differentiates them the most is the pedal vs the black keys. On a harp, each note has a corresponding pedal, which can be put in either the sharp, neutral, or flat position. As a harpist goes through a piece, they can set the pedals with their feet ahead of time and change the pedal through the piece when there are accidentals. On the other hand, a pianist has to keep the key signature in mind as they go through a piece, but they have access to the entire range of notes through their hands. 
One pro for the harp is the expression you can get from the plucking motion of a string – I feel like there's more control over how the sound travels than there is on a piano since the way you move or shape your fingers can impact how the sound travels. 
Pianists definitely have a wider range of motion though, which is also a big part of expression that harpists have to a different extent. 
E: How would you contrast/compare your experience of playing in an orchestra (at districts) vs. playing solo?
G: Playing at districts was a very new experience for me since the majority of what I do is solo, so it was pretty nerve-wracking to be surrounded by so many experienced musicians. It's a much more collaborative environment since you have to be in tune with the conductor and the different instruments, and being able to see the impact that different parts [of the orchestra] had on the quality of playing of the whole was really interesting. At one point I had over 200 measures of rests, so I definitely had the time to observe. While it's a team effort to create the sound, the process of adapting to those around you is definitely still an individual one.
Thank you to Grace for chatting with me and sharing her insightful thoughts and experiences  about the harp! If you would like to see her play, Grace will be accompanying the RHS Orchestra on May 22nd at 7:30 p.m.